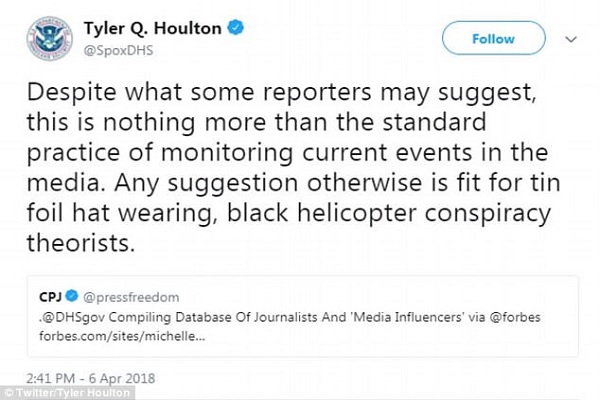 Besides his broken promise to build a wall on our southern border at Mexico's expense, there has perhaps been no issue more popular with Trump's adoring fans than his repeated attacks on the First Amendment and the so-called "Fake News" media.
In the 1930s, Nazi propaganda promoted a belief in Lügenpresse—a word adopted by Trump's followers and translated means "lying press"—to demonize and eventually eliminated media that didn't adhere to Germany's nationalist/socialist beliefs and dogma. Likewise, Trump and his minions are edging America ever closer to seeing freedom of the press eliminated for media that refuses to adhere to Trump's nationalist/populist beliefs and dogma.
And just as it was in 1930s Germany, Trump is working to replace so-called fake news with state-run news media outlets like Sinclair Broadcasting and FOX News.
While Trump typically relies on his FOX and Friends morning intel to tweet his attacks against unfavorable media, the NY liberal is taking additional steps through the Department of Homeland Security to identify media targets that he once referred to as "the enemy of the people."
DHS just announced that it is seeking a contractor to build a Media Monitoring Services division to track hundreds of thousands of news sources, "including: journalists, editors, correspondents, social media influencers, bloggers, etc." And they won't be tracking just media content; they will be making arbitrary judgements on the "sentiment" of those they are tracking.
The threat this poses to freedom of the press can't be overstated, especially when you consider its intentionally vague language.
For those hoping that the political duopoly bought and paid for by Democrats and Republicans will protect the First Amendment, I've got bad news. There have been situations over the past few years where members of both parties at the federal and state levels of government have attacked the First Amendment's protection of a free press.
In June 2013, Sens. Chuck Schumer and Lindsey Graham teamed up to propose a media shield bill that would specifically deny First Amendment protection for bloggers.
In December 2014, an Alabama republican in the state senate proposed a plan to license journalists who cover local politics in order to protect citizens—translated "politicians"—from "shady, fly-by-night websites offering purposely skewed and inaccurate interpretations of hard news."
If created, the DHS media database will mean we have entered the dangerous and tyrannical territory where the government keeps track of the "sentiment" of citizens and foreign nationals. I've written in the past how Trump's narcissistic, constitutionally ignorant and indifferent nationalist/populist attitude is destroying our Constitutional rights. Sadly, there doesn't appear anyone in Washington interested in stopping Trump or protecting the Constitution.
But don't worry folks. Despite Trump's track record of attacking "fake news" media and Washington's track record of attacking our Constitutional rights, DHS says this in nothing more than a "tin foil hat wearing, black helicopter conspiracy."
Originally posted on The Strident Conservative.
Source: Trump's DHS to compile data base to spy on journalists, bloggers