POLITICS
WASHINGTON ― Donald Trump was supposed to be a different type of Republican. He's frequently switched political parties, won over some traditionally Democratic votersand attacked well-regarded members of the GOP. Many establishment Republicans disavowed him, while others hoped his heterodox views ― antithetical to many pro-business elites ― could reshape politics.
But as president, Trump has mostly governed as a traditional Republican leader. His rhetoric may sound different, but his biggest accomplishments and policy initiatives are, at the end of the day, almost completely in line with an orthodox GOP agenda ― with more of an emphasis on nationalist policies.
Trump didn't execute some hostile takeover of the party; he was readily welcomed by many in the rank and file as its chief, and his administration has already fulfilled many items on its wishlist.
"President Trump has absolutely governed as a Republican," said Boris Epshteyn, a former Trump aide who is now chief political analyst at Sinclair Broadcast Group. "The president has had success on a wide range of fronts which are key to the Republican and conservative agenda, including deregulation, tax reform, decimating ISIS, repealing [Obamacare's] individual mandate, reforming immigration, etc."
"It is also important to note how involved the president has been in supporting Republican candidates throughout the country and working to keep GOP majorities in the House and the Senate," he added.
The most significant accomplishments under Trump have as much to do with Congress as they do with the president. Legislatively,Trump's biggest win was the tax cut law that delivered a massive permanent reduction for corporations. While Trump aides helped craft the legislation, it was something that congressional Republicans like House Speaker Paul Ryan (R-Wis.) have been preparing for years ― long before Trump ran for president.
In many ways Trump is governing as a traditional Reaganite – less government regulation, less taxes and a stronger military. Newsmax CEO Chris Ruddy
Trump also nominated Neil Gorsuch to the Supreme Court, ensuring that conservatives continue to hold the majority on the bench. But the reason Trump was able to choose a justice at all was thanks to Senate Majority Leader Mitch McConnell (R-Ky.), who refused to let the chamber vote on President Barack Obama's nominee when Antonin Scalia's death created a vacancy in early 2016.
And in filling the high court vacancy and others in lower federal courts, Trump has leaned heavily on recommendations from the Federalist Society, which has a deep network of conservative legal talent.
While Trump came in promising to "drain the swamp," his lack of political experience has allowed the swamp to thrive. Lobbyists, special interest groups and even foreign nations have been able to find ways into the administration.
Trump initially appointed a number of outsiders to his cabinet and top staff. Recently, however, he has begun turning to Republican insiders and former GOP officials who are more ideologically aligned with the party establishment. Larry Kudlow, his new top economic adviser, is a long-time free trade and tax cut advocate. John Bolton, his new national security adviser, previously served as United Nations ambassador under President George W. Bush and is one of the most hawkish voices in American foreign policy who has fiercely defended the Iraq War.
A policy area where Trump has most radically broken with Republicans is on trade. Trump's decision to impose tariffs on steel and aluminum, as well as additional steep tariffs on China, has spooked markets and sparked fears of an impending trade war.
While congressional Republicans have warned about the negative effects of Trump's tariffs, few have indicated they will support legislation to nullify them. China, meanwhile,retaliatedagainst the U.S. on Monday by imposing tariffs on 120 types of commodities, which is expected to primarily affect American farmers.
"In many ways Trump is governing as a traditional Reaganite ― less government regulation, less taxes and a stronger military," Trump confidante and Newsmax CEO Chris Ruddy said. "Even on trade, Reagan was a hawk and Trump tapped his key trade [representative], Bob Lightizer. Trump often stakes out positions more extreme than Reagan, but observers should see this as a negotiating tactic for him. With Trump, always look at results and the bottom line; they tend to be quite reasonable and good."
Former House Speaker Newt Gingrich (R-Ga.) agreed with the Reagan comparison, but said Trump put more emphasis on "things that have changed."
"I think he would approve of Trump's nationalism about controlling immigration and focusing on merit based immigrants," Gingrich said. "Reagan had defense, economic growth and the deficit in that order and the recent Trump signature of the spending bill followed the Reagan pattern. Trump's aggressive trade policy would have been understandable to Reagan because the world has changed. When the director of national intelligence in 2015 said China had stolen $460 billion in intellectual property in one year you clearly have to rethink your trader policies."
The George W. Bush wing of the party, in contrast, was "more globalist and more anti-deficit."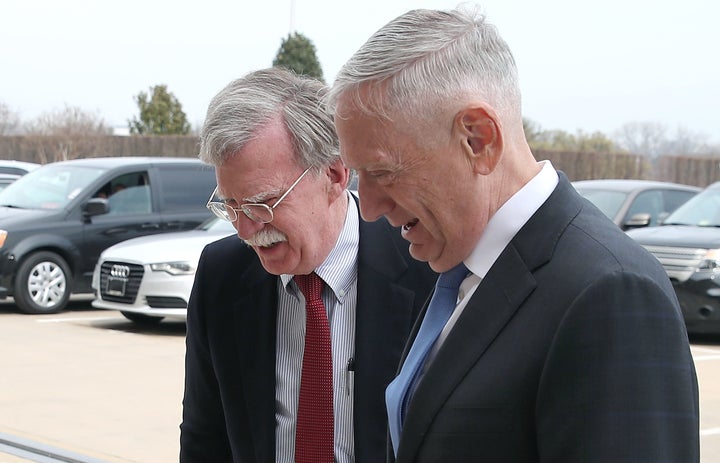 Trump often gives members of his party heartburn when he praises Russia and its president, Vladimir Putin. But he recently listened to his staff and agreed to expel 60 Russian spies and diplomats, the largest such expulsion in U.S. history. The move drew rare praise from lawmakers of both parties.
"This fits the pattern of our policy toward Russia in the Trump administration," John Herbst, a Russia scholar at the Atlantic Council, told The Washington Post. "If you just look at policy, this administration has taken steps the Obama administration was not willing to, such as supplying antitank missiles to Ukraine. The president's heart doesn't seem to be in it, but for whatever reason,he's willing to go along with his advisers."
Immigration is perhaps the top issue that animates Trump's base ― and therefore himself ― but he's hardly the first GOP politician to use it to appeal to voters. During his 2010 re-election bid, for example, Sen. John McCain (R-Ariz.) starred ina memorable ad in which he walked along the U.S. border with Mexico and urged then-Sheriff Paul Babeu to "complete the danged fence." In 2012, GOP presidential contender Mitt Romney urged undocumented immigrants to "self-deport." And just last week, Romney said as a Senate candidate in Utah that undocumented immigrants who came into the country as children shouldn't be allowed to obtain legal status at all.
Trump recently signed a $1.3 trillion government funding bill into law that will greatly increase the federal deficit by raising spending for domestic and military programs. During the Obama administration, Republicans railed against the federal deficit and called for cutting spending. But the fact that the omnibus sailed through was less a result of Trump being a new type of president then the reality that Republicans no longer need to make the deficit a political issue now that they have a GOP president.
On gun policy, Trump stunned lawmakers earlier this year when he publiclyembraced several gun control measures and shot down GOP priorities like concealed carry reciprocity. He even, shockingly, said he would be fine taking away people's gunswithout their permission, and told members of Congress that they should be willing to stand up to the National Rifle Association.
Shortly thereafter, however, order in Trump's Washington was restored: The Republican president hadrealigned himselfwith conservative priorities and abandoned talk of pushing lawmakers to pass broader gun control proposals.
And on social policy, Trump has continued to restrict abortion access and block advancements for lesbian, gay, bisexual and transgender people, staying in the space where Republicans have traditionally fallen.
"On most of the issues, the policies of this administration have fallen under traditional Republican policy," GOP strategist and former Republican National Committee spokesman Doug Heye said. "This is seen not only in the measures advanced by the administration … but also in the personnel that the administration has brought on board."
"That's why many who [were] critical of Trump in the campaign are now backing him to the hilt," Heye added. "It's also why members of Congress, many of whom are privately critical of the administration, are putting their heads down and focusing on their committee or subcommittee. They know that this may be their best opportunity to fulfill long-held policy goals."
Source: Trump Is Governing Like A Traditional Republican | HuffPost