POLITICS
Public schools closed in at least 25 Kentucky counties on Friday as teachers staged a quasi-strike after legislation was passed that would overhaul the state pension system.
Kentucky teachers called in sick or absent to protest the legislation, which passed mostly along party lines on Thursday night. The closures affected schools across the state, including in its two largest school districts: Jefferson County Public Schools in Louisville and Fayette County Public Schools in Lexington. More than one-third of all school employees in Lexington called out of work, the Fayette County school district said.
Kentucky's public pension system is among the worst funded in the nation. Gov. Matt Bevin (R) has prioritized reforming it since he was elected in 2015, and Republicans have taken up the issue since gaining control of both houses of the state legislature in 2016.
Teachers and public employees have fought the proposed changes, which have included transitioning new hires into a "hybrid" system that more closely resembles a 401(k). They argue that such changes would lead to steep cuts to their retirement systems and could violate their contracts with the state.
Educators have spent weeks protesting the proposed pension plans, and appeared to have derailed any potential reform earlier this week as Kentucky's 2018 legislative session drew to a close.
But on Thursday afternoon, Republicans tucked many of their proposed changes into a piece of legislation relating to public sewage. And after mere hours of debate, both state legislative chambers approved the bill in late-night votes, with the state Senate voting around 10 p.m. to send the bill to Bevin's desk.
The 291-page bill dropped some reform proposals that had drawn the most opposition, such as cuts to annual cost-of-living raises for teachers and a Bevin-backed provision that would have increased the amount teachers have to pay into their health insurance funds.
Still, it included major changes to the system. If the bill becomes law, for example, it will take longer for new teachers to gain eligibility for retirement benefits. And the bill would end a contractual obligation that prohibits lawmakers from changing pension plans or reducing retirement benefits for any teacher already under contract, according to the Lexington Herald-Leader.
Bevin is expected to sign the bill into law, and praised its passage. He tweeted that "49 members of the Kentucky House and 22 members of the Kentucky Senate voted not to keep kicking the pension problem down the road."
The potential financial impact on Kentucky's pension system is unclear, as lawmakers suspended legislative rules requiring an actuarial analysis of the bill ahead of the vote.
But Kentucky teachers, who have stressed throughout protests that they are not eligible for Social Security to help fund their retirement, say they are well aware of how changes to the pension system will affect them.
"Our pension is our only fallback," said Katy Smalley, who teaches first and second grade in Bullitt County, where schools remained open Friday. "I don't get Social Security. So taking anything from that is changing the way I have to plan for retirement. It's huge."
They had a 291-page bill that was still warm from the copier, and that they had not read. And they were given it to vote on. Anita Davis, retired teacher
Educators also criticized the rushed and opaque process used to pass the bill.
"They had a 291-page bill that was still warm from the copier, and that they had not read. And they were given it to vote on," said Anita Davis, a retired teacher who was among those protesting at the state Capitol building in Frankfort on Thursday. "Even if it was the best bill in the world, the way it came about [would make] everybody very suspicious. Put that on top of the rhetoric that has been stirred up, and it has poisoned the well for so many teachers in terms of having trust for the governor and so many representatives and senators."
Students also joined the protests, even in some districts where schools didn't close.
The Kentucky Education Association called the legislative process "shameful." Chris Brady, a member of the Jefferson County Public Schools Board of Education, tweeted that the lawmakers who had voted in favor of the bill had "voted not to be re-elected."
Kentucky Attorney General Andy Beshear announced Friday that he planned to sue over the legislation, which he said violates the state constitution.
"Last night we saw government at its worst," Beshear said in a video posted on Facebook. "Last night, the House and Senate … broke their word, but I am going to keep mine."
"We will take this to court," Beshear said.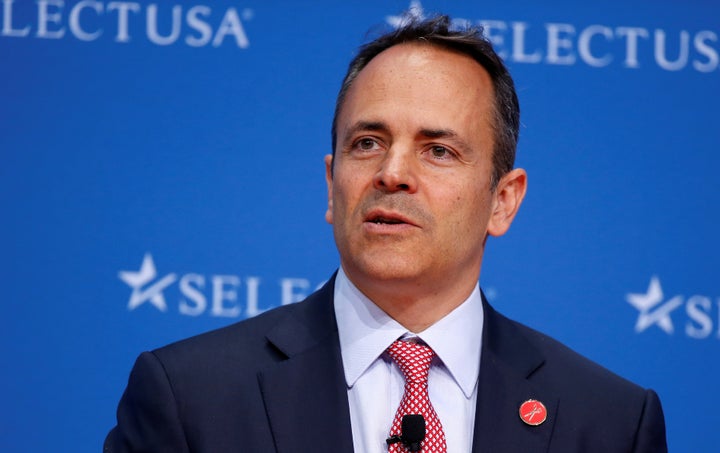 It's unclear whether the protests will lead to extended closures in Kentucky, especially since many of the districts that were shut down Friday are approaching spring break. But with a state budget proposal that includes cuts to education funding still looming, the closures are at least a hint that the pension reform bill could turn into a breaking point for Kentucky's teachers.
"I have never seen this type of anger and pushback from teachers," said Davis, the retired teacher. "They are tired of this, of public workers being demonized. … People think it's about money and a pension, but it's a bigger thing than that."
Source: Kentucky Teachers Shut Down Schools After Public Pension Overhaul | HuffPost