MEDIA
Several companies announced Thursday that they were pulling the plug on advertising during Laura Ingraham's show after the Fox News host bashed a teen survivor of the Parkland school shooting.
Nutrish, the pet food line owned by celebrity chef Rachael Ray, was the first to tweet that it would no longer advertise during Ingraham's show.
"We are in the process of removing our ads from Laura Ingraham's program, as the comments she has made are not consistent with how we feel people should be treated," a spokesman for Nutrish told HuffPost in a statement.
Hours later, travel site TripAdvisor and home goods retailer Wayfair followed suit.
In a statement to HuffPost, TripAdvisor said Ingraham's comments crossed "the line of decency":
We believe strongly in the values of our company, especially the one that says, "We are better together."

We also believe Americans can disagree while still being agreeable, and that the free exchange of ideas within a community, in a peaceful manner, is the cornerstone of our democracy.

We do not, however, condone the inappropriate comments made by this broadcaster. In our view, these statements focused on a high school student, cross the line of decency. As such, we have made a decision to stop advertising on that program.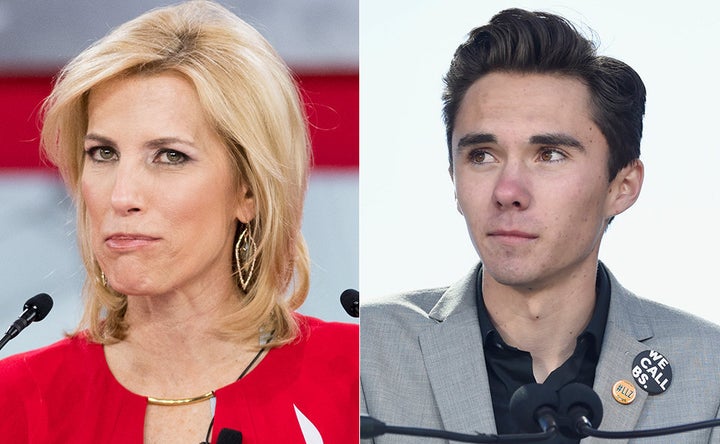 A spokeswoman for Wayfair told HuffPost that Ingraham's comments were "not consistent with our values."
"As a company, we support open dialogue and debate on issues," the Wayfair spokeswoman said. "However, the decision of an adult to personally criticize a high school student who has lost his classmates in an unspeakable tragedy is not consistent with our values. We do not plan to continue advertising on this particular program."
The companies' announcements came a day after Ingraham mocked David Hogg, a senior at Marjory Stoneman Douglas High School in Parkland, Florida, for not getting accepted into a few colleges.
In response, Hogg called on people to pressure a dozen companies to remove their ads from Ingraham's programs, which include "The Ingraham Angle" on Fox News and a morning radio show on Talk 1370 AM of Austin, Texas. Nutrish, TripAdvisor and Wayfair are pulling their commercials from the Fox News show, the companies confirmed to HuffPost.
Ingraham apologized Thursday afternoon on Twitter for "any upset or hurt my tweet caused [Hogg] or any of the brave victims of Parkland."
"She only apologized after we went after her advertisers," Hogg said. "It kind of speaks for itself. … I'm not going to stoop to her level and go after her on a personal level. I'm going to go after her advertisers."
HuffPost reached out to every company on Hogg's list of Ingraham advertisers. Nutrish, TripAdvisor and Wayfair have responded. A representative for Fox News declined to comment beyond Ingraham's apology on Twitter.
A spokesman for Expedia told HuffPost on Thursday that the company "no longer advertises" on Ingraham's Fox News show. He declined to comment on when Expedia made that decision and whether Ingraham's remarks about Hogg played a role in it.
This story has been updated as additional companies spoke out.
Source: Advertisers Ditching Laura Ingraham's Show Over Attack On Parkland Survivor | HuffPost